PALESTINE- EVERYDAY LIFE UNDER OCCUPATION
The buildings and structures of Palestine are rich with stories of conflict, politics and life in an occupied State.
Separation Wall, Bethlehem.
A towering symbol of the occupation, the 8 meter high separation wall cleaves the landscape in two. Yet along its many miles street art and graffiti have sprouted as a form of resistance and solidarity. Bright colours and heartfelt words subvert the symbolism of the dominant grey concrete and barbed wire wall. It becomes a gallery, a place of expression, a way of being heard for a group of people that feel isolated and voiceless beneath the wall's shadow.
Separation Wall, Qalqilya.
The city of Qalqilya is surrounded on three and a half sides by the 8m high separation wall. Only a narrow opening allows movement out of the city. It sits on fertile agricultural land, however much of this land was lost to the other side of the wall when it was built in 2002.
Nablus Camp Number 1, II
Nablus Camp Number 1, refugee camp. With no more space to expand, a growing population and no money to leave, the inhabitants of Camp Number 1 in Nablus live a difficult life. In 1948 when the camp was established on a small piece of land it homed 1,200 people, this number has now grown to 7,500 registered, but actual figures are estimated at double that, living within the same space. Buildings have grown upwards to accommodate more people, yet as they rise higher, the poor foundations they were built upon in the first place are put under increasing pressure. Unemployment rates are incredibly high, with degree educated inhabitants struggling to find jobs.
These blue and yellow doors mark one of very few refugee businesses within the camp, a small shop selling food and snacks.
Nablus Camp Number 1, I
When it was established in 1948, 1,200 people lived in the small area created as Refugee Camp Number 1 in Nablus. Now that has increased to 7,500 registered refugees within the same physical area as 1948. (Estimates including unregistered refugees stand at 15,000). Walking around, the walls are so close to each other that you can touch both sides of the 'street' at once, sometimes being forced to turn your body sideways to squeeze along the smallest passages. Bullet holes are visible in the walls. The rabbit warren feeling walking through has a claustrophobic element to it, and you can't help imagining what it would be like to be trapped within the walls of the camp when it is filled with tear gas, bullets and fear.
Al-Shuhada Street, Hebron.
Al-Shuhada Street, Hebron used to be the main wholesale market in Hebron, but was closed to Palestinians after the 1994 riots. It's now virtually a ghost town, with shop fronts welded shut.
Ghost town of Hebron.
There is a strange eeriness hanging in the air after you pass through the checkpoints and into the ghost town/settlement area of Hebron. What used to be a bustling heart of the city is now overgrowing with plants, boarded up homes and many of the structures are crumbling. The welded closed doors of this row of shops, which were forced to close at the beginning of Second Intifada for security reasons have been painted bright blue, in strong contrast to the usual muted green tones. In any other context, the blue paint on doors could be overlooked as a purely aesthetic choice, but within the context of the Occupation it has a more political basis. Access is heavily restricted by checkpoints into the area, the lack of people adding to the post apocalyptic atmosphere.
Vegetable shop, Asira ash-Shamaliya.
Within the town of Asira ash-Shamaliya, life goes on. This old stone building at the top of the hill is one of several vegetable sellers in the town bringing people fresh produce from nearby Nablus.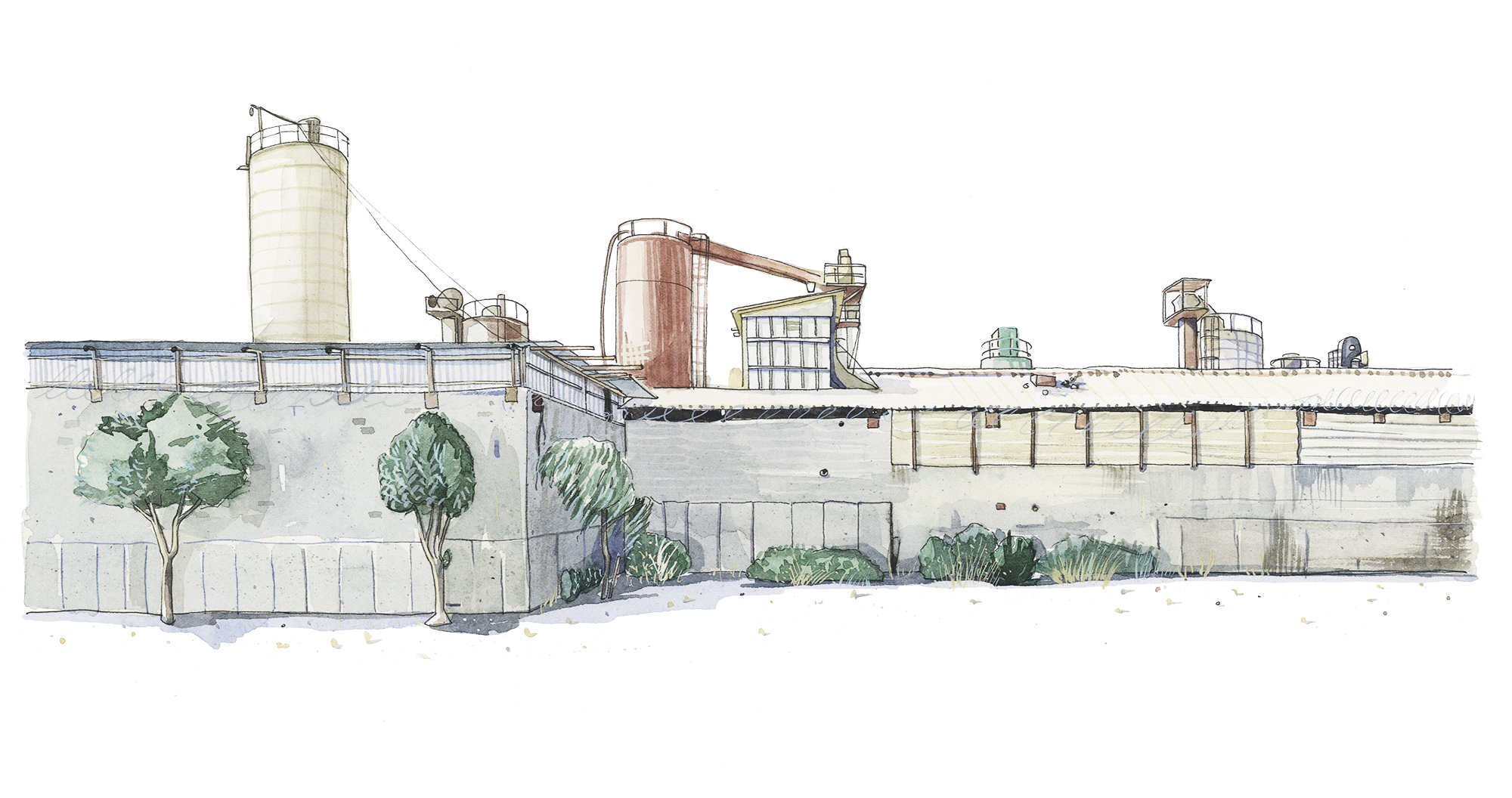 Chemical Factory, Tulkarem
This factory was relocated to the Palestinian side of the separation wall when pollution legislation was introduced. I was told that the town it is based in has the highest rates of cancer of any town in Palestine, and to this day, when the wind blows the smoke and chemicals back across the wall to Israel it stops production for the day.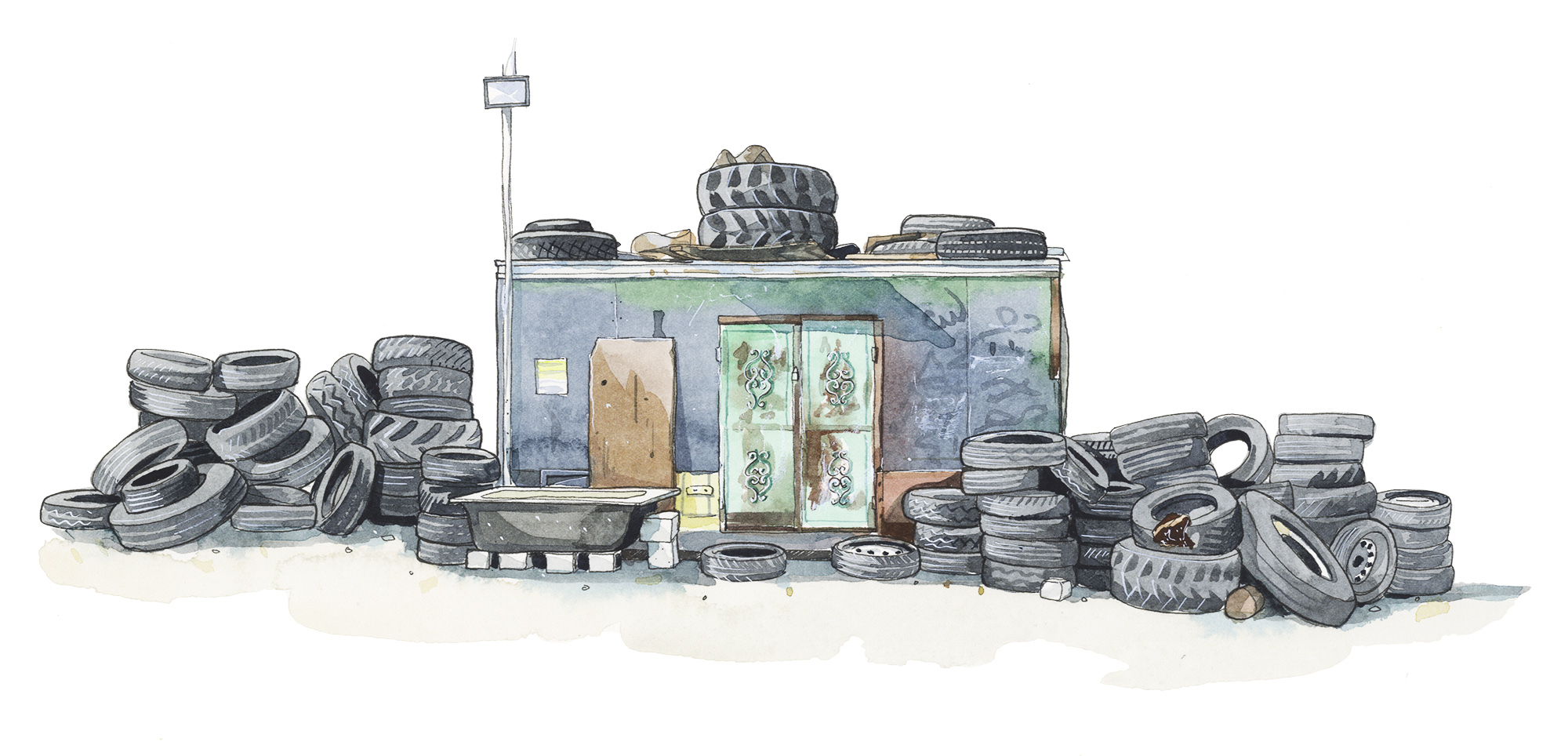 Tyre Shop, Asira ash-Shamaliya.
Parts of things are everywhere by the side of the roads in Palestinian towns. Bits of cars, bits of machinery. It feels like every second building is either a car repair shop or a metal fabricators. When importing of new goods is both expensive and difficult, patching and mending things holds greater value.
Hermit Cells, Mount of Temptation, Jericho.
Hermit cells in the Mount of Temptation, Jericho. Natural caves were turned into hermit cells since the early centuries of Christianity.
TIPH HQ, Hebron.
The Temporary International Presence in Hebron. They 'observe and report on breaches of the agreements between the Palestinian Authority and Israel'.
Whilst I was at the checkpoint into Shuhada Street, a teenager ran up to the TIPH workers with anguish in his eyes. He wanted to report settlers throwing stones at him as he walked down Shuhada Street. The frustration and powerlessness of the young man was palpable. Moments later the two workers were back to dealing with a small group of women who were being denied passage through the checkpoint despite insisting that their homes lay within the tightly controlled area. Palestinians that live within the restricted area have numbered passes to gain access. I noticed that these women were still waiting for permission to travel home on my way out of Shuhada street about 20 minutes later. TIPH's role is to take statements, write reports and send them off, it is not to intervene in these situations. It will be a long time before I forget the frustration in that young man's voice at being powerless to stand up for himself, or the resignation in the group of women just trying to get home.